VP of Marketing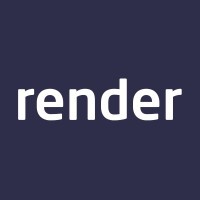 Render
Marketing & Communications
San Francisco, CA, USA
Posted on Friday, October 20, 2023
At Render, we are building a powerful, easy-to-use cloud platform to host anything online: from simple static sites to complex backend applications with hundreds of microservices. Render offers the flexibility of traditional cloud providers without their complexity and maintenance headaches, so developers and businesses can focus on building products instead of managing infrastructure.
We're a talented and diverse group solving a problem faced by every development team. We iterate quickly while placing the utmost importance on user experience, quality, and reliability. We push ourselves to do better every day. With tens of thousands of customers and rapidly increasing revenue, we're on to something big.
Applying to Render:
We're looking for candidates with high integrity, low ego, and an insatiable drive to learn. We use reasoned discussion and constant feedback to improve individually and as a company. We cultivate mutual trust and respect, empowering us to debate ideas effectively and create the best outcomes for our customers and team.
We especially encourage members of underrepresented groups in the tech community to apply and understand that not all successful candidates will meet each requirement listed.
Our interview process is unique to each role, and we value the candidate experience just as much as our customer experience. We hope your conversations with us reflect a thoughtful process that is illuminative, enjoyable, and respectful of your time.
About the role:
Render is looking to hire our first VP of Marketing, reporting to the CEO and working out of our San Francisco HQ. We have a product that developers love (and love to talk about). This is evident in our organic, product-led growth to more than 750K developers on the platform, significant self-serve revenue, and a $50M Series B in June 2023. This is a rare opportunity to build a GTM strategy and high-performance marketing team from the ground up with a company that already has proven market momentum. We believe strongly in getting this repeatable and scalable marketing engine in place before building out sales or other GTM functions. Your impact here will be profound.
As Render's VP of Marketing, you will:
Define the marketing strategy and build the team and marketing engine to support Render's ambitious growth goals.
Capitalize on Render's large developer community to drive revenue conversion and expansion through existing and new channels.
Have a hands-on approach to moving key marketing initiatives and deliverables forward in parallel with building your team.
Radically increase awareness of Render and our differentiators at the category level with press, analysts, and other influencers.
Articulate Render's unique value proposition to developers and teams. Define personas, ICPs, customer segmentation, messaging, and positioning.
Lead the creation of content, community engagement, and social strategies that generate public conversations and an engaged following
Experiment your way to a delightful full-funnel buyer journey, from unaware to visitor to signup to active user to paid customer (in collaboration with the Growth product team).
Build out the marketing operations backend to automate this user journey and provide critical data and insights on what is and is not working
You're a great fit if:
You know what resonates with software developers, and you can create authentic messaging and content strategies that our unique customer base appreciates.
You have articulated and implemented a successful, comprehensive marketing strategy to reach and win target personas and achieve business growth goals, especially at a scaling startup and in a PLG context.
You know what it takes to put a developer-first company on the map and generate buzz. You've helped dominate share of voice among competitors and landed positive positions in key analyst reports.
You have helped kickstart and rapidly expand bottoms-up community engagement through virtual or in-person events and online evangelism.
You understand all parts of a marketing funnel and can correctly measure impact to inform decision-making and optimize performance.
You have experience with efficient and intelligent marketing ops backend systems and can assemble the best-of-breed tools to meet Render's developer experience and business goals.
You work effectively with cross-functional teams (product, design, UX, and engineering) to run experiments and build growth channels.
You have a track record of rolling up your sleeves as an effective hands-on contributor and as a leader in building high-performing teams.
You thrive in ambiguous, resource-constrained, and evolving startup environments and have experienced rapid company growth.
Benefits we offer:
The opportunity is also eligible for equity with early exercise options and extended exercise windows.
12 weeks of fully paid parental leave for all parents to bond with a newly born, adopted, or fostered child. We will also work with you to create a supportive plan of return.
Long-term disability, life insurance, and 401K plans.
100% employer-paid medical coverage and 99% employer-paid dental and vision coverage for you and a dependent. FSAs available too.
Monthly wellness stipend
Monthly mental health stipend
Monthly commuter stipend for Bay Area employees, and a home office stipend for remote employees
Continuous learning benefits & related support.
Render is an equal opportunity employer. We know employing a team rich in diverse thoughts, experiences, and opinions allows our employees, our product, and our community to flourish. We make all employment decisions including hiring, evaluation, termination, promotional, and training opportunities, without regard to race, religion, color, sex, age, national origin, ancestry, sexual orientation, physical handicap, mental disability, medical condition, disability, gender or identity or expression, pregnancy or pregnancy-related condition, marital status, height and/or weight.
We will ensure that individuals with disabilities are provided reasonable accommodation to participate in the job application or interview process, to perform essential job functions, and to receive other benefits and privileges of employment. Please contact us to request accommodation.
We encourage all who are interested to apply. We can't wait to hear from you!